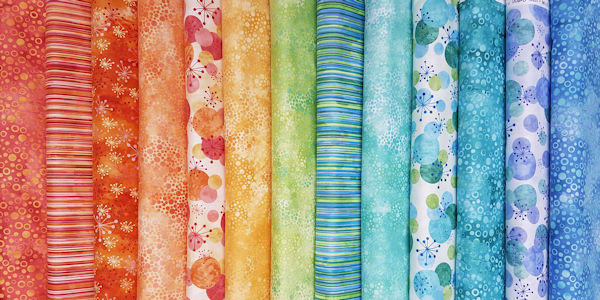 I have a variety of classes demonstrating my particular style of improvisational piecing and colour play. Participants can learn either improvisational strip piecing or free-form piecing, both techniques holding endless potential for explorations of colour and composition and moving towards original work.
Touchstones – Improvisational strip piecing and colour play based on my award-winning quilt Touchstones #2 – Gingko Garden. Working with 20 fat quarters, participants will learn to blend colours and fabrics in a deliciously random way in this deceptively simple quilt. Suitable for all skill levels. Two day class (with time for piecing between classes).
Strata – Free-form piecing presented in an achievable wall-hanging, with some organza embellishment added just for fun. A two-day class with the quilt top pieced on the first day, ready to explore free-motion quilting on day two (suitable as a weekend workshop).
Constructions – Investigate three different approaches to improvisational piecing in this fun introductory class, opening up a world of possibilities. One day class, suitable for all skill levels.
Explorations – A more in-depth look at improvisational techniques including free-form piecing, fused construction, organza embellishment, paint techniques, bobbin embroidery and free-motion quilting. Two-day class or weekend workshop.